My suggestions are simpler than the title I used for this thread (it does not make justice to the ideas but I'm too tired to try find some better), one consists of removing the arrows we see when a player is outiside the camera borders when the
SetNametagVisible
command is set to false.
Also I was thinking of a way to see teammates through foreground tiles, a bit like a wallhack but only your and your teammates will see it.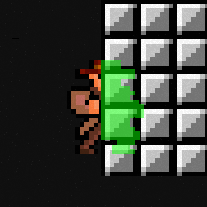 This could unlock some kind of custom modes like "hide and seek", "guards and thieves" and so on.
While I'm talking about this I could even think the possibility to have individual views for each player view (like if you're the only player in the map with dynamic camera enabled), but I dubt a bit that it will be considered, since the camera system was recently overhauled and turning back to change it could be a pain in the ass.